WOW Package – Only $15 Add on to any car wash service
The "WOW!" Package really puts a shine on your vehicle that makes you say "WOW!" There's no other way to put it. This is a $15 add-on service to any of our car wash services. This add-on package gives you three extra products that make the difference:
Carnuba pressurized spray wax
What makes Carnauba special?
Carnauba Wax is just like cedar shingles on the roof of a home. Carnauba is hygroscopic and swells when it gets wet. Water, the universal solvent, is also the agent for carrying acids and contaminants to your paint. Carnauba stops contaminant erosion by putting up a barrier every time it gets wet. Carnauba is the perfect natural weapon to defend your car from the ravages of nature. Carnauba provides a very hard (pure Carnauba is harder than concrete) film over your car's surface to protect against contaminants such as acid rain residue, catalytic converter emissions, bug tar, road grime, salt and bird droppings. Carnauba also dramatically reduces paint oxidation by diffusing (refracting) UV and infrared radiation from the sun which can oxidize and dull your paint finish. Source http://www.zymol.com/faq3.htm
Rain-x for windshields
Rain-X. Eliminates fog on the inside of windshields and rearview mirrors while driving. No more steamed up mirrors, kitchens, bathrooms and other fog-prone surfaces. Just wipe on – no rubbing or buffing. No build-up. Contains no water. 100% solvent/active.
Black Magic for tires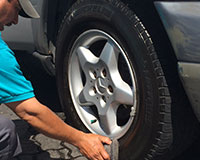 Wheel Cleaner's powerful tough-task formula dissolves brake dust, dirt, road grime and oil on contact. Reveal the deep, natural black of blackwalls and a brilliant white on whitewalls and white letters. It is the #1 brand in tire and wheel care.
We can't guarantee you won't be hooked on it!