The Works Package – Only $33.95*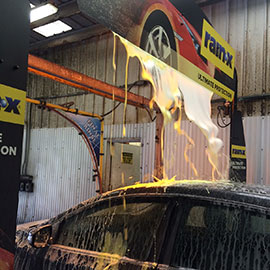 Basic Wash
Armor All Extreme Shine Wax
Ultra Shine Triple Coat
Exterior Dressing
Wheel Brite
RainX Complete Surface Protection
Interior Fragrance
Deluxe Wash Package – Only $28.95*
Basic Wash
Armor All Extreme Shine Wax
Tire Dressing
Wheel Brite
Interior Fragrance
Super Wash Package – Only $26.95*
Basic Wash
Armor All Extreme Shine Wax
Interior Fragrance
WOW Package – Only $15
Purchase this package as an add-on to any of the above services.
Consists of 3 products:
Carnuba pressurized spray wax
Rain-x for your windshield
Black Magic for your tires
We can't guarantee that you won't get hooked on it!
$9 Exterior Express
"Stay in your car" service.
In a hurry? This is the best deal in town. Take the Express Lane on the left, through our 120 foot long wash tunnel with full blow dry. It washes your car, your rims, tires and blows your car dry in minutes!
Great for in between washes. Give it a try.
A la Carte Services Available*
Basic Wash* – $21.95
Exterior Wash/hand dry – $19.00
*Trucks/Small SUV's – ADD $1.00
*Mid/Full SUV/MiniVan – ADD $2.00
*Trucks with large tires/Limos – ADD $3.00
Armor All Extreme Shine Wax – $6.00
Ultra Shine Triple Coat – $6.00
Whitewall Bleach – $3.00
RainX – $6.00
Interior Fragrance – $2.00
Rubber Mats (4) – $8.00
Carpet Mats (4) – $12.00
Dressing:

Tires Only – $3.00
Interior – $8.00
Exterior – $6.00

WOW – $15.00
Passenger Car Prices – Additional charges apply for larger vehicles